See Manhattan How We See It
Blog
From New York City's best attractions to our favorite fairs and festivals, this is your one-stop source for insider intel on all the Big Apple has to offer.
NYC's Newest Rooftop Destination Comes With A (Martini) Twist
Shaken or stirred? After a year of social distancing and DIY cocktails, who cares? New York City is back, and just in time for summer socializing!
Perched atop the dazzling Hotel Hendricks in Midtown Manhattan, Daintree debuts as New York City's newest rooftop destination, a super-sophisticated newcomer with a few new twists.
Mixologist Gates Otsuji and Executive Chef Robert Sieber lead Daintree's imaginative culinary program, pairing elevated bar plates with cocktails that are perfect for late afternoon into evening sipping. Look for a particularly robust and thoughtfully curated martini menu, as well as fresh-picked seasonal flavors that remind you all over again how great it is to be in the heart of the world's greatest city.
Escape Midtown's everyday hustle and bustle and unwind amid the mix of lush greenery, warm woods, and earthy organic textures. Indoors and out, Daintree's design seems inspired by Australia's Daintree Rainforest, a 460-square-foot expanse within the world's oldest continually surviving tropical rainforest. Where better to enjoy an expertly crafted cocktail and savor jaw-dropping views of the NYC skyline?
Better yet, stick around to celebrate NYC's post-pandemic renaissance and score an irresistible rate at Hotel Hendricks this summer. At just $140 per night, there's no better way to elevate your summer getaway!
Read More
Take A Self-Guided Tour of Lower Manhattan
Similar to New York's five boroughs, Manhattan neighborhoods each have a personality of their own. Some are just minutes away from Hotel Hendricks, yet you'll be surprised by the unique character of each area.
Boasting classic New York City ritz and laid-back downtown vibes, Chelsea has the best of both worlds. The stylish neighborhood boasts high-end art galleries, historic 19th-century townhouses, and glass-clad highrises, all in equal parts. Chelsea is also home to popular High Line, a verdant public park built atop a historic freight rail line, elevated above the streets on Manhattan's West Side.
Dubbed "Manhattan's Shopping Mall" thanks to the many notable designers and fashion houses lining its cobblestone streets, SoHo has long been considered one of New York City's most charming and desirable neighborhoods. See if you can spot the stunning castiron architecture and industrial facades of this district.
For the past few decades, the Flatiron District has been synonymous with the best dining experiences in all of New York City, including Michelin-star restaurants and world-famous Eataly, a massive Italian marketplace and al fresco dining area. This compact district, covering roughly 18th to 27th street, is the place to be if you've got a penchant for good food.
If you're feeling torn between neighborhoods, just remember that all of Manhattan is just a New York Minute away from the cozy confines of your room here at Hotel Hendricks.
Read More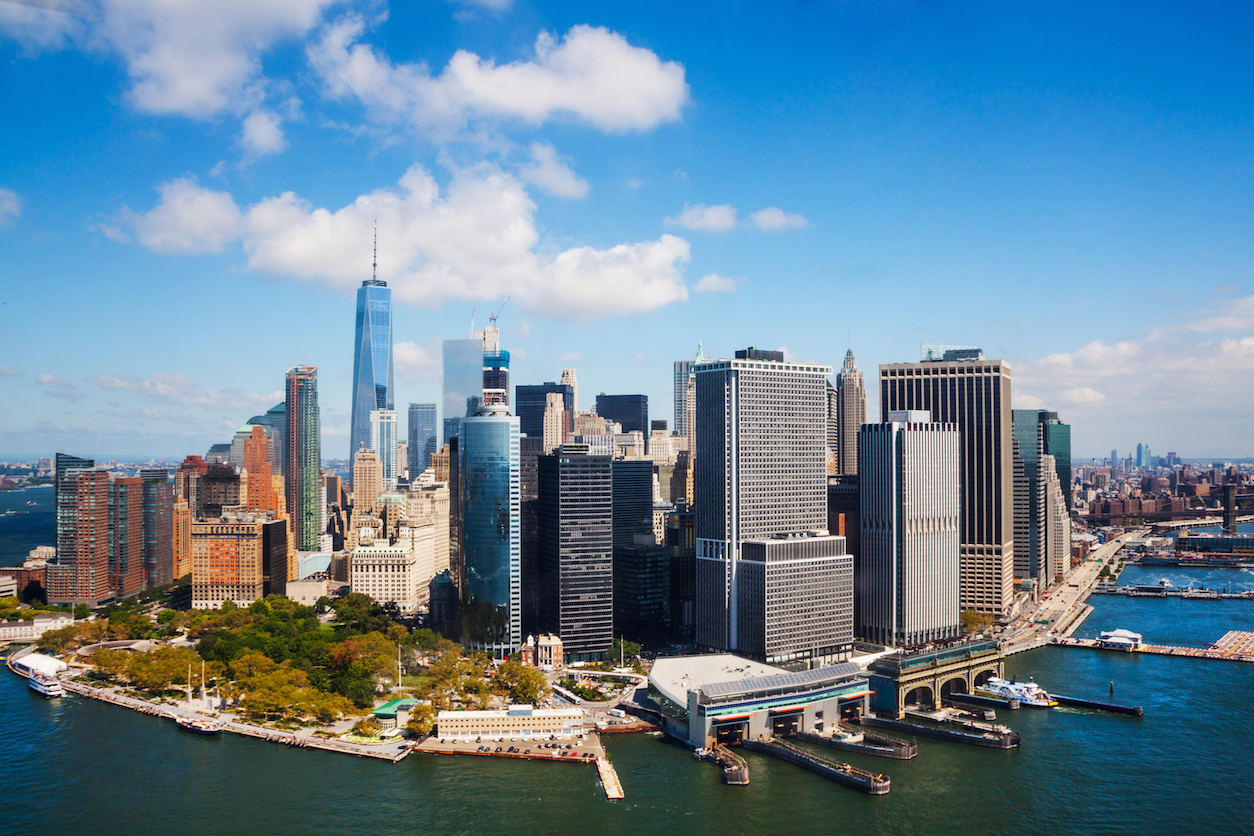 A Few Manhattan Facts You Probably Didn't Know
We all know and love Manhattan, but how well do we really know New York's most coveted borough? We're sharing our favorite facts about our favorite, most celebrated, city.
It's no secret that space is limited in the Big Apple (something we've grown to love). However, if everyone lived as densely as they do here in Manhattan, the human race could actually fit into a single country as small as New Zealand.
The rumors are true, 6 ½ Avenue actually does exist. Located halfway between Sixth and Seventh Avenues, obviously, there's a pedestrian walkway with small "6 ½ Ave" signs at every intersection.
Whether we like to admit it or not, we've all eaten Subway's popular sandwich: the Italian BMT. But, did you know it was actually named after an actual subway? The Brooklyn Manhattan Transit, to be specific.
Ever been driving up First Avenue and feel like you're catching an unimaginable streak of green lights? That's not just luck. The city's traffic lights are actually programmed to match drivers going around 28 miles per hour, which is the typical speed limit in Manhattan.
Read More
The Orchid Show at The New York Botanical Garden
It may still be chilly outside, but that doesn't mean you can't embrace the colors of spring at this year's Orchid Show at The New York Botanical Garden. Delight in the dazzling floral displays designed by famed designer Jeff Leatham while experiencing an impressive variety of orchids. Leatham is the well-known artistic director of the Four Seasons Hotel George V, Paris, and floral designer to the stars. Take this opportunity to view his genius creations, expressed in flowers.
Leatham's work is marked by his free-flowing use of color, which can be best appreciated in the Conservatory. Keep your camera handy—you'll want to commemorate your walk through the kaleidoscopic tunnel featuring blocks of different colored orchids. Visit after dark for Orchid Evenings to enjoy a beautiful display of lights among the orchids. There will also be snacks and beverages available for purchase. For more information, please click here.
Read More
Valentine's in NYC
New York City is full of heart—that's why people flock to its bustling streets year-round. However, Valentine's Day spent in Manhattan has a special kind of magic. Treat your beloved to an unforgettable holiday in the Big Apple.
Romantic Dinner
Oysters, short ribs, and deliciously sweet desserts are just part of the dining experience you will share at Paloma at Hotel Hendrick's. Spend the night dining on mouthwatering Pan-Latin cuisine in a modern and inviting atmosphere.
Private Tour of The Met
Explore the eloquent galleries of the Metropolitan Museum of Art before it's open to the public. Spend as much time as you like admiring your favorite Monets, Van Goghs, and Degas without the interruption of other visitors. Reserve your spot here.
Split a Heart-Shaped Pizza
Bond over your love of pizza in a cozy setting at Rubirosa in Nolita. Or try some of the other premier Italian restaurants in Manhattan. Pro tip: you'll be surprised by how many pizzerias in the city will happily shape your pie into a heart, upon request.
Read More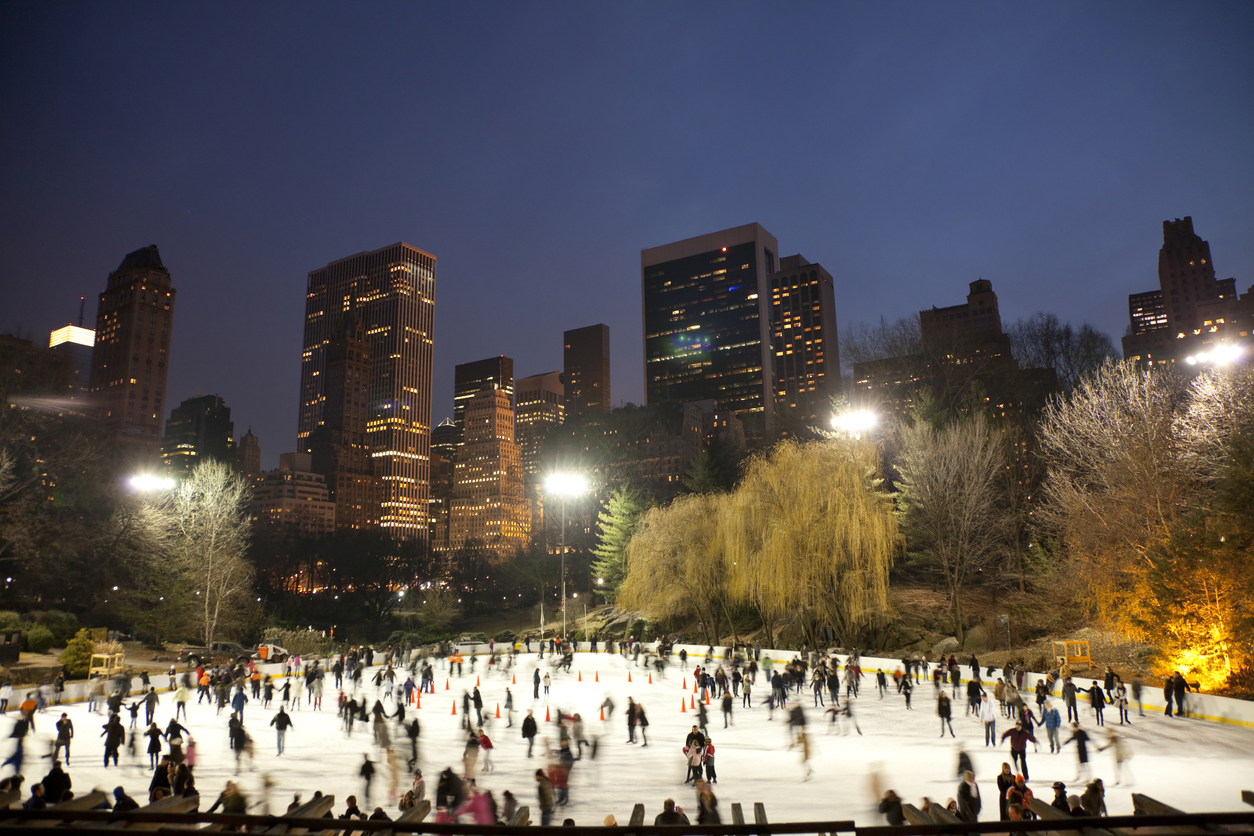 Best Nighttime Skating Spots
Manhattan is for night owls—that's why we've curated a list of the top places to skate at night. Embrace these chilly January evenings with a spectacular night under the stars.
Take in the panoramic views at this exclusive ice skating rink in the sky. Not only is this the only rooftop rink in the city, but it is also flanked by restaurants and bars to enjoy before and after your night of skating.
Cascade through the heart of Central Park with the twinkling lights of Manhattan as your breathtaking backdrop. Visit this iconic rink for an unforgettable evening surrounded by the beauty of the park and the charming buildings of the upper Manhattan.
Bank of America Winter Village at Bryant Park
Warm-up with a cup of hot cocoa or cocktail before taking a spin around this popular rink. The stars may not be visible, but the sparkling skyscrapers that surround Bryant Park create an enchanting atmosphere worth checking out.
Read More
Holidays in Manhattan
Walk out of the doors of Hotel Henricks and into the magic of Manhattan. Grab a warm drink to go and head over to Fifth Avenue to see the most spectacular window displays at stores like Bergdorf's, Saks Fifth Avenue, Louis Vuitton, and more.
After some spirited window shopping—and maybe a little actual shopping—venture to Rockefeller Center to see their famous Christmas tree dressed up in lights. Take a spin around the ice skating rink while snapping some pics for the Gram. However, to truly get into the holiday mood, snag a spot at Rofl's near Gramercy Park—it's an experience like no other. New Yorkers usually ignore this traditional German restaurant throughout the year, but during December, it's transformed into a Christmas paradise and becomes a can't-miss attraction!
Read More
Winter Village at Bryant Park
Imagine a winter wonderland in the heart of Manhattan brimming with adventure and charm. Hop in a cab to Bryant Park to experience the magic of their Winter Village—a European style open-air holiday market. Browse the unique kiosks hand-in-hand with your loved ones while shopping for gifts, trinkets, and more.
Enjoy a festive cocktail at The Lodge, featuring a full range of local eateries, bars, and a very refreshing beer garden. While some may prefer The Rink at Rockefeller Center, insiders know that the one at Bryant Park is superior. Plus, their newest feature makes skating a breeze—reserve your skate time online here.
End your day at Fever-Tree Porch on the southern end of the Fountain Terrace for a casual meal paired with great conversation. Look out upon the skyscrapers and think to yourself: "What did we ever do to deserve such a perfect day in Manhattan?"
Read More
Feel Festive this Fall
On your mark, get set, fall! Beside spooky Halloween events, there's an incredible selection of awesome activities happening in NYC this October. Use our expert guide to plan your perfect vacation, then round out the month with a Halloween experience to remember.
New York City Wine and Food Festival, October 10th - 13th
Feast and taste your way through four days of dining events and classes at various locations throughout the city. Famous chefs such as Bobby Flay, Martha Steward, and Rachael Ray are just some of the well-known names you may catch. Begin planning your adventures here.
Open House New York, October 18th - 20th
Glimpse into some of the most fascinating establishments in New York City. For two days, curious visitors gain access to usually off-limits sites and buildings. This year, The Metropolitan Opera House has been added to the growing list of exciting locations.
The Village Halloween Parade, October 31st
Watch as over 50,000 people march in this costumed Halloween procession that cruises up 6th Ave. The parade is free and open to the public, but for an elevated experience, opt for VIP tickets. Explore your options here.
Read More
Your Guide to Museum Day
For one day only, 31 New York City museums will offer free admission. On September 21st, plan a museum-hopping day that will keep your Instagram feed buzzing with fresh content. It's impossible to visit all of them, so we picked our top three to help you navigate the cultural waters.
The Rubin Museum of Art
Explore the art and cultures of the Himalayas, India, and neighboring regions at this intimate museum located in the Flatiron district.
The Jewish Museum
Head to the Upper East Side to visit this impressive museum that features contemporary art exhibits alongside a prolific collection of nearly 30,000 works of art.
Cooper Hewitt
Right down the street from the Jewish Museum is the Cooper Hewitt Smithsonian Design Museum, a design institution nestled on Museum Mile. It is the only museum dedicated to historic and contemporary design and features a collection of 210,000 objects spanning thirty centuries.
Read More
Celebrities, Tennis, and More!
What's more exciting than enjoying the fine dining, museums, and shopping of NYC before catching a US Open match and rubbing elbows with the tennis elite? Full of celebrities, the tournament held at Arthur Ashe Stadium feels like it belongs in the stories of Page Six. Last year the celebrity-studded event was attended by Sophie Turner, Joe Jonas, Priyanka Chopra, Gigi and Bella Hadid, Spike Lee, and many other familiar faces.
Watch your beloved tennis champions compete in this intimate tournament, known for its enthusiastic crowds. Both players and the audience love attending the competition because of the vibrant exchange of energy. Insider's Tip: pop by the practice courts for a closer look at the players as they're warming up. If you're feeling bold, take advantage of the casual atmosphere and ask for an autograph!
Read More
Shop Like a Manhattanite
The streets of Manhattan are teeming with sophisticated styles and trends. Compliment your summer wardrobe with an entertaining day of shopping and return home looking more dashing than when you left.
Saks Fifth Avenue
From the moment you walk through the gilded doors, you'll be transported to a world of luxury goods. Take a deep breath as you begin your adventures through the flagship store on 5th Ave carrying everything from Alice & Olivia and Rag & Bone to fashion powerhouses like Prada, Chloé, Fendi, Gucci, and more.
Bloomingdales
Upscale apparel, cosmetics, home goods, and more, places Bloomingdales at the top of our list. Avoid getting lost by downloading their free app featuring maps, restaurant info, and exclusive deals. Insider's tip: Visit Magnolia Bakery on the first floor for a taste of their famous banana pudding and cupcakes.
Macy's
Experience history while browsing the aisles of this stunning flagship store. Macy's was established in 1858 and moved to its Herald Square location in 1902. Pay special attention to the original details while you shop from trendy brands.
Read More
The Historic Flatiron Building
In the heart of the city is one of the most photographed structures in Manhattan. Embark on a delightful summer stroll to Madison Square Park to see the historic Flatiron Building. Designed in 1902 by Chicago architects Daniel Burnham and Frederic Dinkelberg, the iconic triangular shape is a must-see for local architecture lovers and visitors alike.
The exterior of the building is made of limestone and terra-cotta and is held together by an industrial steel frame. Keep in mind that the building only measures six-feet across at its most narrow part. Snap Instagram-worthy photos with the architectural masterpiece in the background while you enjoy the warm summer breezes from the East River. After sightseeing, venture into the park and be one of the first to check out the latest art installation, City in the Grass by Leonardo Drew, before heading back Hotel Hendricks for rooftop cocktails with a view.
Read More
Björk: Cornucopia
Björk is one of the most unique voices in music. However, she is more than just a singer--she's a songwriter, actress, record producer, and most importantly a performance artist. Be one of the first to experience what the artist describes as her "most elaborate" stage creation yet. Cornucopia begins May 6th and runs until June 1st at New York City's new arts and theater space, The Shed.
Catch one of the eight performances that feature the Icelandic artist collaborating with a series are talented creatives, including award-winning director, filmmaker, and screenwriter, Lucrecia Martel. The staged concert is a combination of live musical arrangements, stunning visuals, and digital technology. Despite the anticipation, details about the show have been sparse creating a mysterious air of excitement. There's only one thing we know for sure--it's guaranteed to be a fantastic work of art you'll never forget!
Read More
Manhattan In Springtime
Sunny spring days have arrived in Manhattan. As the temperatures warm up, chic Manhattanites strip their elegant layers and the trees begin to bloom into a kaleidoscope of colors. Cherry blossom pink, daffodil yellow, crabapple white—the streets are adorned with hints of spring inviting visitors to stroll.
This year, head up to world-famous Central Park to tour the cherry blossoms. Walk hand-in-hand with your beloved while taking in the rich history of the area as well as learning about the origin of the stunning trees that brighten the park with their pink petals. Discover the winding trails, rocks, and streams while viewing the blooms along the bridal path at 90th St, East Drive at 66th St, the east side of the Boathouse at 74th St, and Cherry Hill mid-park at 72nd Street. Finish your adventures at Belvedere Castle, because the only thing more magical than a castle nestled in a park, is one fringed by exotic flowers. After a day of exploring, head back to Hotel Hendricks to unwind with a sumptuous cocktail on our rooftop. A lot can happen in a New York minute, use yours wisely.
Read More
Insider's Guide to The Metropolitan Museum of Art
Expand your horizons with an enlightening trip to "the Met," the largest art museum in the United States. Whether you are a frequent visitor or it's your first time, there is always something new to see.
The Greek and Roman Sculpture Court is an optimal place to start. Find your own intimate corner and take in the two-story hall filled with the museum's prolific collection of Greek and Roman art focusing on ancient statues. Next, immerse yourself in an Impressionist Treasury to explore 19th century and 20th-century European paintings and sculptures featuring 16 works by Post-Impressionist painter Vincent Van Gogh. Finally, round out your adventures by visiting the Temple of Dendur, the only complete Egyptian temple in the Western Hemisphere. Take note of the stunning papyrus and lotus plant details towards the base leading up towards the sun and the wings of Horus, the sky god. Most importantly, get lost, wander the galleries, and remember there will always be more to see. That's the beauty of The Metropolitan Museum of Art.
Read More
Celebrate An (Inter)Stellar Spring
Even if New York City does get hit by a late-season snowfall, indoors, you can embrace the promise of a sweet-smelling spring at Macy's annual Flower Show. This year, the sprawling 11-story flagship department store takes us on a "Journey to Paradisios," an out-of-this-world, flower-filled reverie into "the mystery of the cosmos."
Think arrangement after stunning arrangement in every size, shape, and shade in the galaxy. While you're there, you can also get a jump start on your spring wardrobe essentials, check out the latest gear at the new Apple Shop on the first floor or grab a bite at one of four NYC food trucks that have permanently parked on "Chef Street."
The Macy's Flower Show is on view March 24 - April 7, 2019, and is free and open to the public during normal shopping hours.
Read More